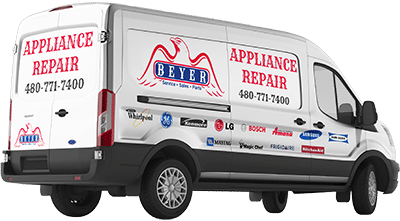 Looking to take your Career to the next level?
Welcome to Beyer Appliance Service!
Since 1992, we have been proudly serving The Valley of the Sun as a full-service appliance service company. We provide high quality appliance repair services and more to residential and commercial customers throughout the county.
At Beyer Appliance Service, our mission is to provide reliable and affordable appliance repair and other services to our customers. We have a team of experienced and knowledgeable technicians who are dedicated to providing excellent customer service.
We are currently looking for experienced and dependable Appliance Repair Technicians to join our team. In this role, you will be responsible for diagnosing and repairing a variety of appliances, including refrigerators, dishwashers, stoves, and more.
We welcome people with all levels of experience in appliance services who can work independently and efficiently.
We are an equal opportunity employer and offer competitive benefits and wages. We are committed to providing a safe and healthy work environment and take pride in our commitment to providing quality service to our customers.
If you are interested in joining our team, please fill out the form on this page. We look forward to having you join our team.